It seems when leaves change in the fall time so do some peoples' moods… I have been hearing a lot of people saying they are feeling more stressed lately.
Now I am curious ….What do changes in nature have to do with moods?  And I wonder…what is the difference that makes the difference that only some people feel stressed?
This week's newsletter is on how seasonal changes may trigger stress and how to shift your state to staying healthy and happy.
I encourage you to read to the end for tips on how to quickly shift your state from stressed to relaxed, happy, focused, motivated!
You get to choose the state that is right for you – and show the world who you really are – your authentic self!
To Your Success,
Jacquie Nagy
World's Leading Be Yourself Coach  …Be yourself, everyone else is taken. Make the rest of your life the best of your life!
How Are Leaves and Moods Similar?
Have you been feeling more stressed lately with the changing of seasons?  Nature is in a constant state of transformation. In autumn, with lower temperatures, drier air, and less sunshine trees respond by dropping leaves and going into a dormant state.  Like nature – you are transforming too!
A BBC Health news article states, "Research from the University of Southampton found that most adults, at least 90%, experience subtle changes in moods, energy and sleep when seasons change."
What is Stress Exactly?
John Grinder, Co-creator of Neuro Linguistic Programming (1970's) defined stress eloquently in an NLP Practitioner course I attended in England. John said, "Being in a stressed state is an unconscious decision to accept pressure of everyday living as excess tension."
Think of a time when you reacted to someone in a negative way.  And at the end of the day you asked yourself, "Not again! I didn't mean to say that or do that! What is going on?"    Most times your state, which determines how you respond, is selected unconsciously.  At the NLP course I attended, John elaborated further on how it is possible to create a partnership between your conscious and unconscious to quickly shift states using NLP techniques. Since learning NLP in 2008 I have been using NLP techniques every day and have enjoyed great results!
A Constant Stressed State Can Slide Into Apathy, Anxiety, and…
You may be feeling 'stuck in a stressed state' and thinking it is the everyday external stressors that are causing stress in you.  Is this true?  Or is it the unconscious choices you make when external stressors are outside your control?
"The problem is not the problem. The state that an individual approaches a problem is the problem."   John Grinder, Co-Creator NLP
When you are not paying close attention, being stressed can quickly slide into a default state of apathy, which can jump to feeling sad, and anxious.  If you do not stop the progression of states can ultimately end in feeling depressed.
I am happy to share….there's great news!!
You Can Train Yourself to Respond Differently
All bodymind states are physically anchored in your body.  You may already know how physical activity helps you shift your state.  This happens by changing your biochemical, physical and neurological systems where states are anchored.  However, if you are avoiding regular healthy activity your body is going to physically hold on to a stressed state for a longer period of time.
The longer your body holds on to a state the more anchored the state becomes and the harder it is to shift state.
If you are curious about how to quickly shift your state come out to
my next NLP Cafe in December (more details coming soon!)
I will be demonstrating a fun exercise you can apply immediately to
help you shift states quickly.
And if you really want to learn more on anchoring and bodymind states
[and tons more techniques for improving your life]
you can attend the next upcoming
Neuro Linguistic Programming (NLP) course in January, 2014
Click here to find out about an amazing Big Discount Deal
If you can sign on the course by the end of November -
- you will love this deal!
Let's be honest. Besides being stressed there are many, many other ways you can respond, right? The key to you understanding stress is to appreciate that stressors are generally external and you can choose to not accept the pressure!
I, like you, am exposed to massive external stressors every day.  Lately, I am having to support my elderly father who's health is changing rapidly.  If I was to allow external influencers to stress me out I would not be able to support him, the rest of my family, my friends, my clients and myself!  Knowing NLP gives me the tools to shift my state so I can cope under pressure many times throughout each day.
Some of my favourite ways to respond in any stressful situation are being curious, compassionate and congruent. 
Being curious is a great state to be in.  Curiosity leads to learning, empathy and personal growth.
Being compassionate reduces stress by getting you out of your own world and appreciating the world of another person.
Being congruent means reminding yourself of your intention and noticing whether you are behaving and acting appropriately.  This helps you stay focused and present in the moment.
There are dozens if not hundreds of different ways you can respond besides being stressed, right?  You just need to know how!
Looking for a speaker for your next meeting?
Contact me to find out more about my keynote presentation
"Your Brain On Stress" 
Learning To Shift Your State More Quickly Is Key
Below I am sharing with you some of my favourite steps that work really, really quickly for you to shift your state and get back on the right track.  At first it might look like a lot. Stay with the process. With practice these steps become really quick and easy.
Write these steps down on an index card, save on your desktop or smart phone for easy access.
Five Simple Steps to Shift Your State Quickly:
1.       Notice when stress is coming on: 
Whenever you feel stress is about to come on, you need to pay attention and notice the feeling.  Noticing is an important 'leverage point'.
2.       Apply stress busting strategies at the earliest stage: 
At the first sign of 'stress' feelings in your body acknowledge the feeling. Develop a rhythmic breathing pattern uniquely your own. Your first breath works like an anchor to activate the new state.
3.       Insert a separator state quickly. Think of your day as chunks of many different states. Partition your states with a neutral separator state.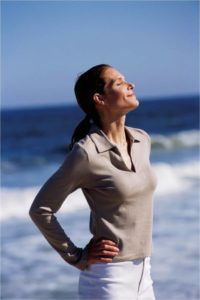 4.       Activate a new state:  Think on what state you want e.g. NOT stressed. Adopt the physical qualities of the state you want.  As example, if you want to be more focused, your posture will be different than when you are stressed.
5.       Recall and pay attention to your intention(s).  State out loud or say quietly to yourself, "I want to…."
With state awareness, attention to your intention, and an ability to change state quickly you can flow out of a state of feeling stressed and into a state that is more authentic – happy, motivated, caring, compassionate, focused, energized, engaged, relaxed- any state that is a reflection of who you are – your authentic self!
Quick Tip
Knowing your intention is key to your success.  If you do not know what you want (not yet maybe!) you may choose to work with me on defining your intention. When you know with certainty what you want in your life (and your business) you will find dealing with stressful situations and many other challenges far easier.  Life will be more enjoyable and you will have less stress and likely more fun in your life!
Look Who's Talking
"I just completed Jacquie Nagy's NLP Course and I am completely blown away by the unexpected change in me that has taken place over the last few days. I walked into the course confident, receptive, interested; I walked out grounded, poised, purposeful. The NLP Course provided a unique learning experience with the opportunity to collaborate with peers, practice skills, and cement the learnings."
Sharon Spann, Co-Owner, Integrity Partners Inc., Las Vegas, Nevada
Jacquie Nagy is an ITA Certified NLP Trainer, Coach (CBC), Professional Speaker (CAPS), Certified Adult Educator (CAE), and Owner of Holistic Directions Inc.,Winnipeg, Mb. Canada.
Contact Jacquie Nagy: +1 204.480.8667 e-mail jnagy@holisticdirections.com