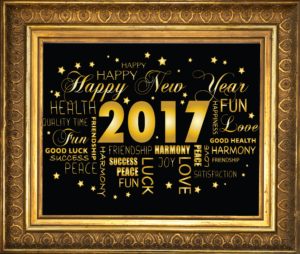 Happy New Year!
I want to wish you a beautiful, loving and joyous new year celebration and a healthy and prosperous 2017!
Did you get a chance to do some or all of the steps in my previous post? If you did, I'm curious…what came up for you? Specifically, what did you notice when you did the first step? The one on listening to your deeper, unconscious self first thing upon waking. Did you find it easy? Difficult? Confusing?
I'm asking as from my experience Step #1 is the one that most people struggle with getting so I thought I'd offer some additional guidance.
Firstly, I like to ask you a question …. How much of your life are you living from the chin up? In other words, in your head. Not truly connected to your body. And to  your heart? When you pause to ponder this question, I'm going to guess that you went to your head to get the answer. Did you feel it? Did you feel your attention go up into your head to gather facts, recall past or current experiences and memories for the answer? Great! An important first step is noticing where you source your  information.
"An integrated mind, body and heart is the key to living a truly authentic life."
When your mind is not truly connected to the sensations and feelings in your body and heart it can result in a deep sense of feeling disconnected with your true self. If you ever find yourself acting and behaving in ways that are inconsistent with what you believe in, your values and your intentions, this is often a sign you are not connecting (enough) with your body and your heart. This is where your intuitive, inner self holds the deeper wisdom of who you are as a person. And where your intuition and dreams are tucked away.
Read more on the intuitive nature of your heart here…  'Thinking from the heart' by Dr. Dominique Surel Continue reading →